Why North Korea Cheonan sinking gets wrist slap from UN
North Korea agreed to its first talks with the US in a year, and is signaling interest in restarting the six-party talks about nuclear disarmament.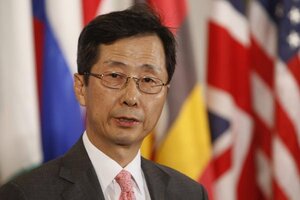 Eskinder Debebe/UN Photo/Handout/Reuters
A UN Security Council statement that fails to blame North Korea for sinking a South Korean naval vessel may already be reaping diplomatic rewards.
At least, that's how North Korea is playing it. China and North Korea are moving quickly to try to put the Cheonan sinking behind it.
Emboldened by the UN Security Council's unanimous assent Friday to a statement that "deplores the loss of life and injuries" and "condemns the attack" in which 46 South Korean sailors were killed in March, North Korea agreed Monday to the first talks in more than a year. The talks will be held Tuesday at the border truce village of Panmunjom.
Senior North Korean and US military officers, meeting under terms of the Korean War armistice, are expected to discuss the sinking of the South Korean corvette, the Cheonan, as a prelude to broader issues. The North Koreans are sure to repeat oft-stated denials of involvement with the attack while demanding that South Korea call off planned naval exercises with the US that the North has said could lead to war.
Analysts agree North Korea came out ahead in wresting a simple statement from the Security Council rather than a strong resolution condemning the North for the attack.
---