Anwar Ibrahim loses ground to rival as Malaysia sodomy trial drags on
The slow-moving sodomy trial for Anwar Ibrahim underscores his bitter rivalry with Prime Minister Najib Razak, who has grown increasingly popular in Muslim-majority Malaysia since his election in April 2009.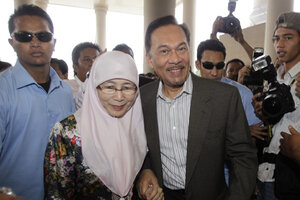 REUTERS/Bazuki Muhammad
The controversial sodomy trial of Malaysia's opposition leader Anwar Ibrahim was postponed Monday until Aug. 2 after his lead attorney fell ill.
The two-week delay is the latest setback in a slow-moving case that could sink the political career of Mr. Anwar, a former deputy prime minister. He has pleaded not guilty to sodomizing a male aide, a crime punishable by up to 20 years in jail in Malaysia, a Muslim-majority country. Even a lighter sentence would automatically disqualify him from holding public office.
Anwar accuses Prime Minister Najib Razak of conspiring against him in a virtual rerun of his highly politicized sodomy trial in 1998 that ended in a guilty verdict. Anwar was freed in 2004 after a higher court ruled his conviction unsound.
Mr. Najib has denied any involvement. In May, Anwar's accuser, Saiful Mohamad told the court that he met privately with Najib, who was then deputy prime minister, and Malaysia's most senior policeman, before filing his complaint in June 2008.
Bitter rivalry
The trial has underscored the bitter rivalry between Anwar and Najib, who took over as prime minister last April after a near-defeat in 2008 for his ruling coalition. Anwar covets the same job, and was heir apparent to long-serving premier Mahathir Mohamed until Anwar was sacked and jailed in 1998.
---