Five ways to cut China energy use
Despite the breakneck speed at which the country surpassed the United States as the world's biggest energy consumer, International Energy Agency chief economist Fatih Birol says China energy use can be slowed.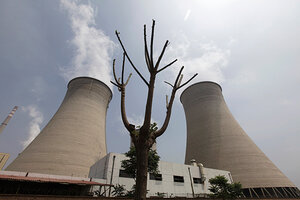 Jason Lee/Reuters
China's voracious appetite for energy doesn't have to keep growing at the rate of this past decade, says Fatih Birol, chief economist of the International Energy Agency (IEA).
The Paris-based energy monitoring group announced this week that China energy use has surpassed that of the United States. The US consumed twice as much energy as China just a decade ago.
China consumed the equivalent of 2.265 billion tons of oil in 2009, about 4 percent more than the 2.169 billion tons in the US. By 2015, the IEA expects China to consume the equivalent of 2.783 billion tons of oil compared to America's 2.291 billion tons.
In an interview with the Monitor, Dr. Birol offered five ways for China to reduce its energy consumption over the coming decades.
IN PICTURES: World's Biggest Energy Hogs
1.
Regulate efficiency. Over the next five years, Beijing will look to put stringent regulations on energy efficiency that will affect everything from household appliances to vehicles to factories, says Birol. Improved efficiency decreases energy waste, which means less energy is needed to complete the same tasks. New regulations to improve energy efficiency, Birol notes, were a major factor in America cutting its energy consumption over the past several years.
---