China development boom: A house in the middle of a six-lane highway?
As China development booms, holdout or 'nail' homes are often hammered down to make way for a high rise or roadway. The Zhang family, though, was allowed to stay - in the middle of a highway.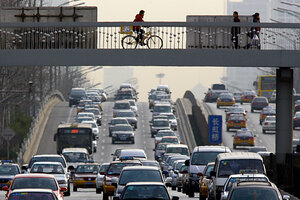 David Gray/Reuters/File
Zhang Changfu's street address could almost be: the middle of the road.
In this city of perhaps more than 17 million people where buildings seem to shoot up overnight, Zhang lives in what locals call a "nail house," one that continues sticking out even after the surrounding area has been developed.
Zhang's house juts into at least six lanes of road in a northeast section of Beijing, cutting traffic to a two-lane bottleneck and often causing jams of honking cars. Sitting at the bottom of a canyon of high-rise buildings, the ramshackle collection of rooms that Zhang and his brother own on Shuguang West Road recalls the Disney animated film "Up" – in which a curmudgeonly old man's house is surrounded by skyscrapers – but with Chinese characteristics.
Cinder blocks and wood planks anchor plastic tarps on the roof. Inside, the floors are bare concrete and the walls are covered with plastic sheeting and, in places, newspaper.
Next door, fancy apartments at 970 square feet are selling for about $400,000.
The house is a reminder that Beijing is growing rapidly amid an economic boom and massive migration from the countryside to urban centers. The growth has pushed ever outward, chomping up poorer neighborhoods and replacing them with more expensive properties. It's hard to overstate the rate of change; even recent arrivals point to shopping malls where neighborhoods stood just a few years ago.
---
Follow Stories Like This
Get the Monitor stories you care about delivered to your inbox.