Khmer Rouge tribunal prepares for first, and possibly only, verdict in Cambodia
The Khmer Rouge tribunal is set to deliver its first verdict Monday in the case of former torture chief Duch. It may also be the last verdict at a court beset by allegations of corruption and political interference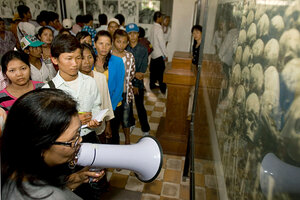 Heng Sinith/AP
In a widely hailed victory for international justice, a war crimes tribunal in Cambodia is set to deliver its first verdict Monday in the case of a former Khmer Rouge torture chief. But some observers fear he may end up being the only regime leader to face justice in a cash-strapped court beset by allegations of political interference and corruption.
Kaing Guek Eav, known by his Khmer Rouge alias "Duch," oversaw the torture and killing of about 15,000 prisoners during the regime's 1975-1979 rule. His trial has played an important role in a nationwide "healing process" that is helping Cambodians come to terms with a regime that killed as many as 2 million people, says Reach Sambath, a spokesman for the United Nations-backed court.
Officials say almost 28,000 Cambodians visited the tribunal during the 72-day trial, and millions more watched proceedings on television or listened to radio broadcasts.
Duch alone has admitted responsibility for his role in the killings. But Duch was not a member of the ruling clique, unlike the four additional defendants still to be tried.
Government pressure
Some observers warn that current government officials who were once Khmer Rouge cadres could step up efforts to prevent damaging information from being revealed during in the next trial. David Chandler, a historian and former US diplomat to Cambodia, told the Monitor in November that he would not be surprised if Duch was the only suspect to face justice.
---