Bomb wounds nine in wake of Thailand election
A bomb at a bus stop in Bangkok wounded nine Sunday, shortly after polls closed in the Thailand election in which former deputy city mayor Panich Vikitsareth beat off a challenge from a jailed opposition leader.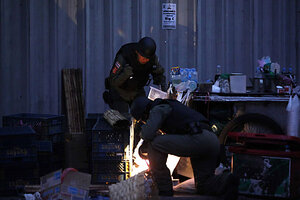 Chaiwat Subprasom/Reuters
Thailand's ruling party declared a comfortable victory Sunday in a closely watched by-election held in Bangkok under a state of emergency that has been imposed since April, when clashes between opposition 'red shirt' protesters and government forces killed nearly 90 people, mostly protesters.
The Thailand election, held in a suburban district on a holiday weekend, went peacefully. But shortly after the polls closed, a bomb exploded at a bus stop close to the site of the red-shirt rally that the military broke up on May 19. Police said nine people had been injured in the blast, the most serious such incident in two months.
The bomb was a reminder of the dangerous political tensions in Thailand, which is polarized along class and regional lines and has struggled to find its footing since a military coup in 2006 against Prime Minister Thaksin Shinawatra, who remains a hero to many red shirts. Mr. Thaksin, a fugitive from Thai justice, is accused of fomenting the April-May protests.
---