Khmer Rouge executioner found guilty, but Cambodians say sentence too light
Khmer Rouge chief executioner 'Duch' was found guilty today by a UN-backed court. He could be out of prison in 19 years, even when many Cambodians say he deserved life in prison for his role in the Pol Pot regime.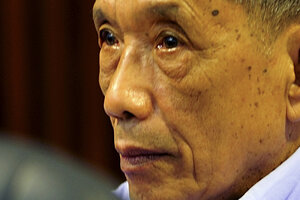 AP Photo/ Extraordinary Chambers in the Courts of Cambodia
In the first verdict at the UN-backed war crimes tribunal, the Khmer Rouge's chief executioner has been found guilty of war crimes and crimes against humanity.
Kaing Guek Eav, better known by his nom de guerre, "Duch," ran the notorious S-21 prison where as many as 17,000 people were tortured before being killed.
"Every individual detained within S-21 was destined for execution in accordance with the Communist Party of Kampuchea policy to 'smash' all enemies," according to a summary of the judgment read to the courtroom by Nil Nonn, the tribunal's president.
The judgment also noted that "at least 100 S-21 detainees died after being bled to death by the S-21 Medical Unit."
In all, the Khmer Rouge regime is blamed for the deaths of as many as 2 million people during its rule from 1975-1979. Many were worked to death or died from starvation, disease, or execution.
Duch received a 35-year sentence for his role in Khmer Rouge killings, but judges reduced it to 19 years in lieu of time served since 1999, when he was discovered living under a pseudonym in the Cambodian countryside and imprisoned. Cambodia has no death penalty.
This means the sprightly 67-year-old could be freed at the age of 86.
---