South Korea keeps wary eye on North Korea during war games
North Korea has refrained so far from retaliating against the ongoing US-South Korea war games. Analysts say the North may try a long-range missile test toward the United States or Japan.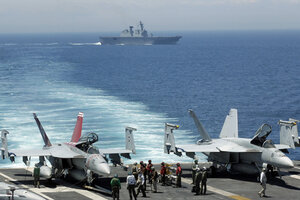 Lee Jin-man/AP Photo/Pool
American and South Korean ships and planes fired on imaginary North Korean submarines Monday as four days of joint exercises reached the half-way mark with no sign of North Korea doing anything to spoil the war games – yet.
US and South Korean officials are not quite prepared to say they have called the North Koreans' bluff by ignoring its threats of a strong – even nuclear – response to the exercises. But most analysts are convinced that the North had no intention of challenging the might of the air and naval forces amassed off South Korea's east coast.
"I don't think North Korea will respond during the exercise," says Kim Sung-han, professor at Korea University's Graduate School of International Studies. "We don't expect another provocation."
But some analysts say North Korea might do something else, such as test firing a long-range missile toward Japan or the US west coast.
Kim Tae-woo, long-time analyst of North Korean intentions at the Korea Institute for Defense Analyses, doesn't think North Korea is ready to explode a nuclear device for the third time. "A long-range missile test is more possible," he says. "That's easier. We should be prepared."
---