Japan's yakuza mafia faces a crackdown
Japan's yakuza mafia has long run unchecked. Recent sumo scandals highlight a deepening war against organized crime in Tokyo.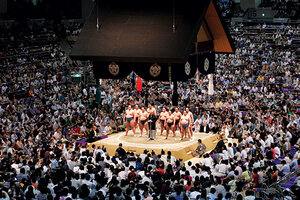 Kyodo News/AP
Recent scandals over illegal gambling among sumo players and ringside VIP tickets for Japan's notorious yakuza gangsters have enveloped Japan's venerated sport of sumo and fascinated the public.
But these are mere sideshows to what is roiling Japan's gangsters, many observers say. After decades of unspoken agreements between police and yakuza that have allowed organized crime to operate with relative impunity in everything from gambling on sport and illegal casinos to human trafficking and prostitution, the national police are cracking down on Japan's top yakuza gang, energized not only by the embarrassment over the sumo debacle but also by the emergence of a dynamic new National Police Agency (NPA) chief last year who wants to curtail the broad influence of yakuza in society.
"We want them to disappear from public society," Takaharu Ando told reporters in Tokyo after a meeting of police chiefs across Japan that he called to discuss strategies. While Mr. Ando may not yet have proved himself to be Japan's own Eliot Ness, there's no doubt about his determination to tackle organized crime.
Japan's 'confederation of gangs'
About half the estimated 80,000-plus yakuza members in Japan belong to the Yamaguchi-gumi confederation of gangs, making it almost certainly the world's largest criminal organization. The leading faction of the Yamaguchi-gumi is the Kodokai, from which the organization's imprisoned godfather and No. 2 hail.
---