North Korea, don't mess with South, US signals to Kim Jong-il
North Korea was sent a clear message from the United States over the past four days of joint war games with South Korea, whose commanders were buoyed by the massive display of American support.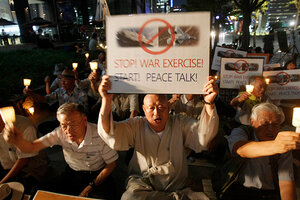 Ahn Young-joon/AP
The United States and South Korea today concluded four days of highly publicized military exercises with a volley of shots against carefully submerged practice targets and the sense of accomplishing what they set out to do: intimidate North Korea.
While no one was writing "mission accomplished" on banners in reference to the spectacle of 20 US and South Korean navy vessels and 200 planes playing war games off the South's east coast, South Korea's commanders were clearly buoyed by the massive display of US support.
South Korean Rear Adm. Kim Kyung-sik said the US and South Korea were now "better prepared to respond to any challenge" after warplanes from both countries practiced zeroing in on targets as elusive as the mini-submarine that sunk a South Korean navy vessel in March in the Yellow Sea off the South's west coast.
Admiral Kim told Korean reporters that US and South Korean "impressive" firepower "sent a strong warning to North Korea that its aggressive behavior won't be forgiven," with the two sides "enhancing our combined defense capabilities."
---