Fresh North Korea sanctions aim to cripple regime's arms sales profits
New North Korea sanctions will target the banking sector in order to curtail the purchase and sale of weapons. The US-imposed sanctions also aim to stop the import of luxury goods for the elite surrounding leader Kim Jong-il.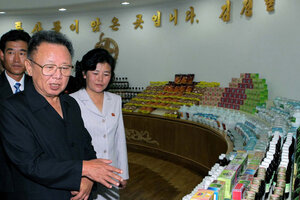 Reuters/KCNA
The top US envoy on arms control promised Monday that new North Korea sanctions would make it much harder for Kim Jong-il's government to import military supplies and to profit from arms sales.
Robert Einhorn, whose title is special adviser on proliferation and arms control at the State Department, said the strengthened measures were to keep North Korea from getting funds for its nuclear and missile programs and also to stop the import of luxury goods for the elite surrounding North Korean leader Kim Jong-il.
North Korea is earning "hundreds of millions of dollars in hard currency annually" from exports of illicit goods, ranging from missiles to narcotics, and much of the money supports its "nuclear or military programs" as well as "luxury goods purchases," he said, after discussing the latest US actions with South Korean officials in the capital.
IN PICTURES: Cult of Personality: Inside North Korea
---
Follow Stories Like This
Get the Monitor stories you care about delivered to your inbox.