Japanese oil tanker attacked by terrorists, says UAE
Japanese oil tanker M. Star was subject last month to a terrorist attack, UAE inspectors said Friday, raising fears of a new campaign targeting global oil interests.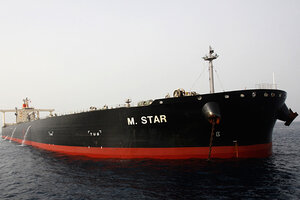 Mosab Omar/Reuters
Reports that a Japanese oil tanker was attacked in the Persian Gulf last month by a dinghy loaded with explosives have raised fears of a new terrorist campaign targeting global oil interests.
The M. Star, a 330-meter-long supertanker, was shaken by what appeared to be an explosion shortly after midnight on July 28 as it passed through the Strait of Hormuz, a narrow channel of water separating Iran and Oman.
Today, a report in WAM, a state-run news agency in the United Arab Emirates, said experts investigating the cause of the damage in the UAE port of Fujairah had found traces of explosives on the tanker's starboard hull.
It wasn't a rogue wave
"An examination carried out by specialized teams has confirmed that the tanker has been the subject of a terrorist attack," WAM said, quoting an unidentified UAE coast guard official.
---