Japan PM Kan sends signal to Asian neighbors by shunning Yasukuni Shrine
Japan Prime Minister Naoto Kan ordered his cabinet to avoid the controversial Yasukuni Shrine on the Aug. 15 anniversary of the end of WWII. It underscores his shift toward improving relations with Asian neighbors.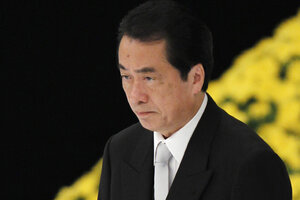 Toru Hanai/Reuters
For the first time in decades, no member of the Japanese cabinet visited the controversial Yasukuni Shrine on the Aug. 15 anniversary of the end of WWII – provoking anger among hardcore nationalists but messages of support from other quarters.
Prime Minister Naoto Kan announced his decision not to visit the Shinto shrine shortly after taking office in June, saying, "As Class-A war criminals are enshrined there, an official visit by the prime minister or cabinet members is problematic. I have no plans to make a visit during my tenure."
No Japanese prime minister has visited the shrine while in office since Junichiro Koizumi, who made numerous visits during his premiership (2002-2006). However, at least one cabinet member of previous administrations of the Liberal Democratic Party (LDP) has attended every year. The LDP ruled Japan almost uninterrupted since the war until its defeat last year to Mr. Kan's Democratic Party of Japan (DPJ).
The order for cabinet ministers to avoid Yasukuni is evidence of "the continued shift by the DPJ toward stronger relations with Asian countries like Korea and China, and away from the US," says Testuro Kato, a visiting professor of politics at Tokyo's Waseda University. Kan has taken a more conciliatory tone than his LDP predecessors, including an apology to Korea earlier this month on the 100th anniversary of Japan's colonization of the peninsula
---
Follow Stories Like This
Get the Monitor stories you care about delivered to your inbox.