China's economy as No. 2: How it's playing in Japan
Some Japanese hope the news that China's economy has bumped Japan's as the world's second largest will serve as a wake-up call. Most Japanese knew this day was inevitable.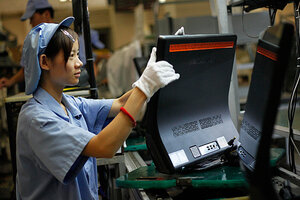 Eugene Hoshiko/AP
China finally overtook Japan and became the world's second-biggest economy, according to data released this week in Tokyo, which showed minimal GDP growth in the land of the rising sun, while its huge neighbor continued its blistering rise.
While some observers say the change in the economic world order is "purely symbolic," others say it should act as a wake-up call to both countries – Japan to get its economic house in order, China to become more politically responsible.
And although some Japanese may gaze across the East China Sea with a touch of envy at the growing economic might of the new kid on the block, most knew that this day was inevitable for a country with more than 10 times the population of their homeland's 127 million.
"China's domestic expansion is very positive for Japan's economy," says Takashi Shiono, an economist at Credit Suisse in Tokyo. "While some Japanese people might feel kind of envious, this is a huge opportunity for Japanese companies."
---