Australia election conundrum: Who won?
Australia's election is set to result in the first hung parliament for 70 years after all the counting in several closely fought seats concludes later this week. The two major parties are in talks with smaller parties.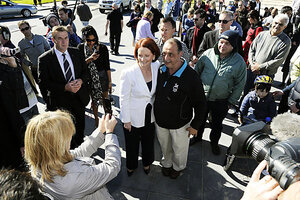 Andrew Brownbill/AP
The closest Australia election for decades ended inconclusively on Saturday, with no party securing a parliamentary majority and analysts Sunday predicting weeks of political uncertainty and possibly even a fresh election.
Counting in several tightly fought seats will not conclude until later this week, but the governing Labor Party and opposition conservative Coalition have acknowledged that neither of them is likely to end up with 76 seats in the 150-member House of Representatives, or lower house.
With Australia's first hung parliament for 70 years the most likely eventual outcome, the two major parties have already begun negotiations with a five-strong group of independent and Greens Party politicians who could help them form a minority government.
With 78 percent of the vote counted, the Australian Electoral Commission said Sunday that Labor – led by the country's first female Prime Minister, Julia Gillard – had won 70 seats and the Coalition 71.
Who will the independents back?
Three independents had been elected, and a fourth was likely, while the small Greens Party had secured its first seat ever in the lower house.
The three independents, who all represent rural areas, held talks yesterday, and indicated that they were likely to throw their combined weight behind one or other party. "We get on very well together, we work very closely together, we have similar backgrounds," Bob Katter, who represents a north Queensland electorate, told the Australian Broadcasting Corporation.
---