North Korea floods prompt rare media candor
North Korea's floods have received a flurry of media attention that appears aimed at burnishing the crisis-management skills of 'dear leader' Kim Jong-il – and bolstering his son's prestige as Kim's eventual successor.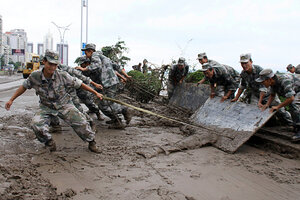 AP
North Korean leader Kim Jong-il has personally ordered troops into combat – not in the "all-out war" his rhetoricians have threatened against South Korea and the US, but in the battle against floods ravaging the critical northern border city of Sinuiju.
Mr. Kim, who rules North Korea as chairman of the National Defense Commission, put his own name on orders for Army soldiers, aircraft, and naval vessels to join over the weekend in rescuing more than 5,000 people as the waters of the Yalu River swept over parts of the city, according to weekend reports.
The North Korean media credited the man whom North Koreans know as "dear leader" with acting swiftly and decisively – befitting one whom North Korean propaganda over the years has credited with hitting holes-in-one in golf, piloting fighter planes, writing revolutionary operas, and discovering amazing labor-saving techniques.
After "emergency rescue plans had shown little progress," said the North's Korean Central News Agency (KCNA), "the Dear Leader made an order to immediately put military forces to the rescue battle."
---