China plane crash highlights new risks for China's booming air travel industry
Tuesday night's deadly China plane crash highlights the risks in China's booming air travel industry. A disproportionate number of flights now have to take off and land at night without proper lighting.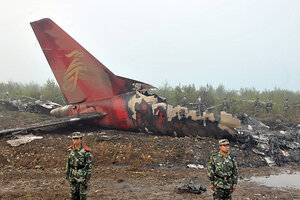 AP
The plane crash in China that killed 42 people late Tuesday night was a rare blot on the country's aviation safety copybook, say experts here. But it highlights the risks of flying in and out of some small regional airports at night, something more airlines are forced to do to meet the demands of China's booming travel industry.
A domestic Henan Airways passenger jet crashed and burst into flames at a fog-shrouded provincial airport near Yichun in northeastern China, killing 42 and injuring 54, according to official reports.
It is still not known what caused the accident "but from news reports I deduce that the reason is human error," says Wang Yanan, deputy editor of Aerospace Knowledge magazine. "I think it came down too fast or too steeply."
It emerged Wednesday that another airline, China Southern, decided last August to avoid night flights into Yichun. A technical note on the airline's website said that "in principle there should be no night flights at Yichun airport," citing worries about landing-strip lighting, weather conditions, and the surrounding hilly terrain.
---