North Korea releases American to Jimmy Carter with a message - and a snub
Jimmy Carter left North Korea with American Aijalon Gomes and a message that Kim Jong-il wants to resume six-party talks, even if he didn't want to talk to Carter.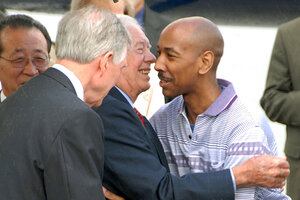 Kyodo News/AP
Former President Jimmy Carter flew teacher-preacher Aijalon Gomes from North Korea to Boston on Friday after apparently waiting three days for North Korea's "Dear Leader" Kim Jong-il to honor him with a face-to-face meeting.

Instead, Kim's second in command, Kim Yong Nam, received Mr. Carter in a ceremony on Wednesday night, after which he and his group spent a full day and one extra night in Pyongyang. The experience was evidently unscripted, and how they spent their time remains a mystery.

"Carter is probably disappointed he did not see Kim Jong-il," says Han Sung-joo, a former foreign minister and one-time ambassador to the US, "but he did not come back emptyhanded."
TV images show Carter flashing his trademark grin as he bade farewell to his hosts and betraying no sign of the frustration he may have experienced when he learned Thursday morning that Mr. Kim had already left by armored train for Jilin Province in northeastern China.
---