North Korea releases prisoners in exchange for humanitarian aid
North Korea's release of a fishing boat and its seven-man crew in exchange for humanitarian aid could bode well for North and South Korean reconciliation.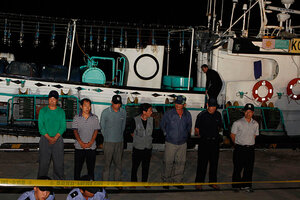 Lee Jae-Won/Reuters
South Korea on Tuesday recovered a fishing boat and its seven-man crew from North Korea after agreeing to an exchange that analysts see as auguring well for inter-Korean reconciliation – though not for an end to the North's nuclear program.
North Korea released the boat on "humanitarian grounds" after seizing it on Aug. 8 within what it claimed was its "exclusive economic zone" off the Korean east coast. The deal for its return appears to have been masterminded by China.
The boat and its crew, including three young Chinese, had infringed on the North's "sovereignty" by intruding into its waters, according to North's Korean Central News Agency. While the boat was returning to the east-coast port of Sokcho, South Korea was preparing to make good on its offer to North Korea of nearly $10 million in rice, instant noodles, and economic aid in the aftermath of disastrous flooding that has further devastated the North's crippled economy.
Aid in exchange for prisoners
North Korea, in response to a South Korean offer to send food for people already suffering from terrible shortages, evidently asked for considerably more before agreeing to free the vessel. A spokesman for the South's unification ministry said North Korea had requested "resources and equipment," including large quantities of cement, to help staunch the raging waters of the Yalu River that marks the North's northwestern and northern border with China.
---
Follow Stories Like This
Get the Monitor stories you care about delivered to your inbox.