South Korea sanctions Iran – under US pressure
South Korea said Wednesday it will blacklist 102 Iranian firms and 24 people in response to US pressure to sanction Iran over its nuclear program.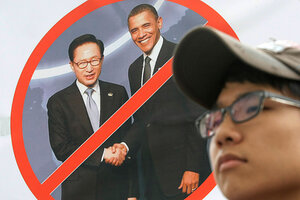 Ahn Young-joon/AP
South Korea on Wednesday reluctantly joined the US-led drive for sanctions against Iran after an internal struggle that pitted financial interests against diplomatic interests – and strained the US-Korean alliance.
Under US pressure, the South Korean foreign ministry added the names of 102 Iranian firms and 24 people to the blacklist of those with whom South Koreans cannot do business and also promised to inspect cargo from Iran more diligently and hold back on investment in oil and gas enterprises.
The foreign ministry, however, did not shut down the Seoul branch of Bank Mellat, which US agents have pinpointed as a crucial conduit for Iranian business in the region. Rather, the ministry said the bank would face "severe" unspecified penalties that may include a temporary suspension of activities, but not the complete closure the US had wanted.
South Korea implemented sanctions despite the qualms of the finance ministry and some major South Korean firms, which complained of the risks of upsetting economic ties with a nation that is the source of nearly 10 percent of South Korea's oil imports as well as major construction contracts. Iran has warned that those who join in the sanctions may face tariff increases of 200 percent – a move that would cut deeply into South Korean exports of vehicles and electronic items.
Soothing tensions between US and South Korea
The government hoped to "minimize the impact" in negotiations with Iran, a foreign ministry official told a reporter in Seoul, attempting to downplay tensions with South Korean financial interests.
---