North Korea happy after China just bailed them out, say analysts
After recent meetings with China, North Korea seems to have its own version of trickle-down economics and emerging markets.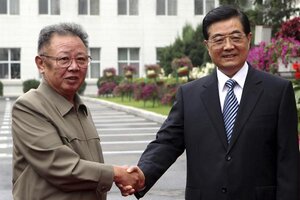 Ju Peng/Xinhua/AP
North Korea's small ruling class probably has reason to rejoice even if no one seems to know if the Workers' Party is about to name new leaders, which presumably would include Kim Jong-il's third son and heir apparent, Kim Jung-un.
Long-time Korea watchers offer that view after recent uncertainty as to whether the party is staging its long-awaited "conference of delegates," the first such gathering in more than 40 years.
"I don't think it's hunkering down," says John Park at the US Institute of Peace in Washington. "It's a celebration, and the celebration is well founded."
Mr. Park, who directs the institute's Korea working group, believes Kim Jong-il solidified deals with China's President Hu Jintao during visits to China this spring and again last month that are buoying the country's devastated economy and bolstering the tight-knit circle around him.
---
Follow Stories Like This
Get the Monitor stories you care about delivered to your inbox.