Thailand protests return as 'red shirts' gather to show strength
Thailand protests by the antigovernment 'red shirts' were the biggest show of strength by Thailand's opposition since a tumultuous crackdown in May.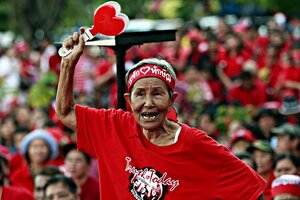 Apichart Weerawong/AP
Several thousand antigovernment protesters took to the streets here Sunday to call for justice over events in April and May, when rowdy demonstrations led to street fighting with heavily armed troops, leaving 91 dead.
The Thailand protests were the biggest show of strength by the country's opposition since the May crackdown and marked the four-year anniversary of a 2006 coup that deposed former Prime Minister Thaksin Shinawatra but failed to quell his popularity or influence.
Wearing their trademark red shirts, the crowds gathered starting at midday at a downtown intersection that they had occupied for several weeks to call for new elections. By early evening, most people had left after shouting slogans, releasing red balloons, and tying red ribbons on signposts. The rally was loud and boisterous, but there was no sign of tension between protesters and hundreds of policemen deployed in the area.
The demonstration went ahead despite a state of emergency in place in Bangkok and six other provinces that allows authorities to ban public gatherings, censor media, and detain suspects for longer periods than normal. Government officials had said that the protesters could assemble as long as they didn't block traffic and dispersed peacefully.
A smaller number of "red shirts" gathered Friday outside several prisons where their leaders and rank-and-file members are being held. Hundreds of red shirts were jailed in the aftermath of May's violence, the worst in a generation in a polarized country with a history of political instability.
---