Attendance of Kim Jong-un at North Korean conference uncertain
North Korea's first Workers' Party conference in 44 years is being hailed as 'historic.' Few know what will actually happen, even if heir apparent Kim Jong-un makes his public debut.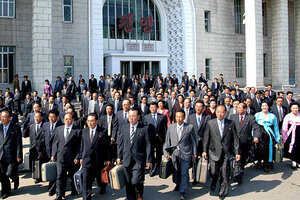 KCNA /Reuters
Excitement surrounding the first North Korea's Workers' Party conference in 44 years is building to what analysts expect will be a climax Tuesday of rhetoric and celebrations in Pyongyang.
Still, It seems few people know what actually will happen on an occasion that the North Korean media has said will be "historic."
The most that Suh Jae-jean, president of the Seoul-based Korea Institute for National Unification, can surmise is that "it seems there is a policy shift in North Korean leadership" and "the politburo" of the party "will be reinforced."
Mr. Suh offers that forecast as a hedge against widespread reports that the sole purpose of the conference is to promote 20-something Kim Jong-un as the chosen successor of his father, Kim Jong-il, who came to power in July 1994 after the death of his father, the long-ruling Kim Il-sung.
"There will be uncertainty," says Suh, avoiding a specific forecast. "The political shift that's coming will open a Pandora's box. We should be fully prepared for what's happening on the Korean peninsula."
---