Kim Jong-un: Why there's growing certainty he'll be next North Korea leader
Kim Jong-un, youngest son to North Korea's 'dear leader' has been appointed to general, along with his aunt. The newly acquired rank is a very strong sign there will be no change in the 'military first' policy within the closed nation.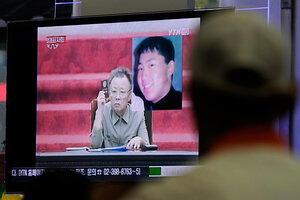 Ahn Young-joon/AP
The third son of North Korea's leader Kim Jong-il was named a four-star general Tuesday, in a bold reaffirmation of the North's military-first policy and the dynastic rule of the Kim family.
Kim Jong-un, educated in Switzerland, with no record of military experience, was given the rank of general by order of his father hours before delegates gathered for the first conference in 44 years of North Korea's Workers' Party, according to Pyongyang's Korean Central News Agency. The highlight of the conference, reported the agency: Kim Jong-il's reappointment as party general secretary.
Related: 5 key people to watch in North Korea
Since Kim Jong-il's power lies in his post as chairman of the National Defense Commission, the rise of his son to the highest military rank suggests to analysts here he will not only inherit that post but continue the same confrontational posture against North Korea's long-time enemies.
---