Americans flock to do business in Vietnam - Asia's next economic tiger?
American Jim Okuley is one of many who have recently opened a business in Vietnam not far from where Viet Cong guerrillas once fired rockets.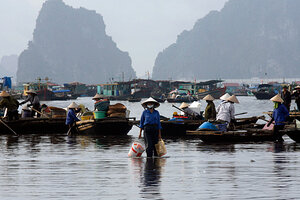 Kham/Reuters
Ho Chi Mihn, City, Vietnam
Jim Okuley has seen Vietnam in war and peace, and he says times have never been better than now.
Mr. Okuley, one of thousands of American businessmen searching for opportunity in the new Vietnam, views this nation through the prism of the Vietnam War – and the recent renaissance of free enterprise in a socialist society. He mingles memories old and new from an elaborate exercise center that he and his Vietnamese wife opened in a district where guerrillas once fired rockets into the downtown of old Saigon.
Foreign businessmen are increasingly coming to Vietnam, setting up offices and factories, playing on the golf courses, hitting the beaches, and dining at great but inexpensive restaurants. During the first nine months of this year, the number of foreign visitors to Vietnam increased 34.2 percent over the same period in 2009, according to the General Statistics Office of Vietnam.
Foreign investment is following. In an industrial zone north of Ho Chi Mihn City, Intel is investing $1 billion in a plant that includes a testing facility and an assembly line spewing out semiconductors.
Read up: Asia's next economic tiger? Hint, it's not China or India
War time
---