Japan revels in good news: two Nobel Prize winners
Two Japanese scientists won the Nobel Prize for chemistry, prompting special editions of newspapers and popular cheer after a run of bad news about political scandal and a stuttering economy.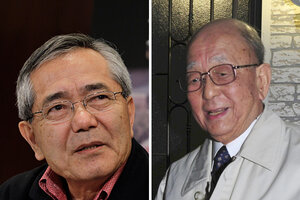 Darron Cummings/AP (l.), Takahiro Yamamoto/Yomiuri Shimbun/AP
Japan was enjoying what seemed to many a rare piece of good news on Wednesday evening as two of its scientists shared the Nobel Prize for Chemistry with an American researcher for their work on binding carbon atoms.

Ei'ichi Negishi, Akira Suzuki, both of Japan, and Richard Heck of the United States, have been awarded the $1.5 million prize by the Nobel Committee for Chemistry at the Royal Swedish Academy of Sciences in Stockholm for finding ways to make atoms stick together – a process that has applications in fighting cancer, HIV, and herpes.

Special editions of newspapers – reserved for only the biggest events – were distributed across Tokyo to announce the Japanese scientists' victory, and TV stations interviewed commuters on their way home for their reactions. One office worker comments typified the mood, saying, "I'm happy to hear it – there doesn't seem to be lot of good news lately."

The domestic media in recent weeks have been full of stories of political stagnation and scandal, the territorial spat with an increasingly assertive China, and an economic recovery that appears to be stuttering.
---