Why Liu Xiaobo Nobel Peace Prize could harm Chinese rights activists
The Chinese government said the award to Liu Xiaobo 'profanes the Nobel Peace Prize.' The immediate future may see more activists arrested, warns Mr. Liu's lawyer.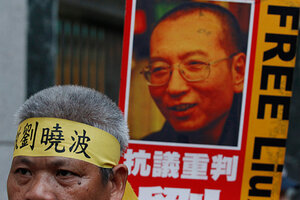 Bobby Yi/Reuters
Infuriating the Chinese government, the Nobel Committee today awarded this year's Nobel Peace Prize to imprisoned pro-democracy activist Liu Xiaobo.
The committee said it had picked Mr. Liu, the first Chinese recipient, for his "long and non-violent struggle for fundamental human rights in China." He was sentenced to an unusually harsh 11-year jail term last Christmas Day for having authored a petition demanding broad political reform in China.
Chinese Foreign Ministry spokesman Ma Zhaoxu said the award "profanes the Nobel Peace Prize" in a statement carried on the ministry's website. Liu "was sentenced to jail…for violation of Chinese law and I think his acts are in complete contravention to the purpose of the Nobel Peace Prize," Mr. Ma said.
RELATED: Liu Xiaobo awarded Nobel Peace Prize. Take the Nobel Peace prize quiz
---