Beijing allows anti-Japanese sentiment to flare in China amid massive protests
Protests in China and Japan over a disputed chain of islands in the East China Sea erupted this weekend and spilled over into Monday, highlighting ongoing bilateral tensions.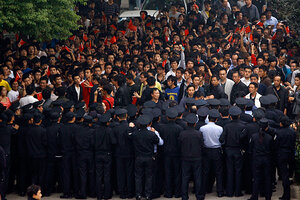 Reuters
A news roundup.
Days of heated protests in both China and Japan over the ownership of a chain of islands are fueling tensions between the old foes.
It was near the disputed islands, referred to as Diaoyu in China but as Senkaku in Japan, that a Chinese fishing boat collided with two Japanese military vessels on Sept. 8. Japan detained the crew and diplomatic relations quickly broke down, with Beijing suspending ministerial-level talks with Tokyo.
Relations recently appeared on the mend, as Japanese Prime Minister Naoto Kan and Chinese Prime Minister Wen Jiabao held a short hallway conversation Oct. 4 in Brussels, followed by an Oct. 11 meeting between defense ministers in Hanoi.
But tensions are flaring up again, with massive nationalistic protests in both countries erupting Saturday and carrying into Monday.
Anti-Japanese demonstrators in China appear to be supported by the government, potentially signaling a new decision in Beijing to allow groups to exploit the island tiff. While protests in China are often quickly shut down or heavily controlled, Hong Kong's Apple Daily newspaper reported that the anti-Japanese protests were organized by government-sponsored university groups.
---