South Korea sends first aid to North Korea in nearly three years
South Korea sent 5,000 tons of aid to North Korea, a step away from recent confrontational rhetoric. But it's a tiny fraction of the 500,000 sent annually under the Sunshine Policy.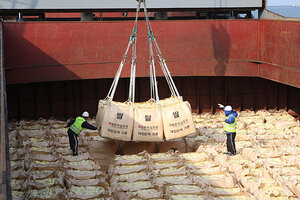 Im Chung/Yonhap/Reuters
A pair of freighters sailed Monday night from South Korean ports bearing the government's first donation of food for North Korea since the decade of the Sunshine policy of reconciliation when South Korea annually shipped hundreds of thousands of tons of food and fertilizer to the impoverished North.
Those shipments stopped at the end of 2007 after the conservative Lee Myung-Bak defeated a liberal candidate for president in a backlash against leftist-led economic policies and gestures toward the North that conservatives saw as doing little to overcome tensions.
How far the donations by the South's conservative government will go toward improving frayed North-South Korean relations, however, remains uncertain. North Korea noted earlier that that the shipments of 5,000 tons of rice and 3 million packs of instant noodles was a tiny fraction of at least 500,000 tons shipped annually to the North before Lee's inauguration as president in February 2008.
The relatively small size of the shipments, "signifies the reluctance of the Korean government to give aid to North Korea," says Paik Hak-soon, director of North Korean studies at the Sekong Institute, which carries out research projects for the government. "It's important to capture this opportunity for good relations with North Korea."
Two ships laden with food were headed to the Chinese city of Dandong, a large trading center near the mouth of the Yalu river across from Sinuiju, a regional North Korean city hit hard by floods over the past two months. A third ship carrying 10,000 tons of cement needed to repair roads and other facilities wiped out by floods is slated to leave in the coming days.
---
Follow Stories Like This
Get the Monitor stories you care about delivered to your inbox.