Another entrant for North Korea succession: Kim's oldest son?
Some analysts believe that Kim Jong-il's exiled oldest son is just waiting to see if his younger half-brother Kim Jong-un can do the job – but could return to rule North Korea.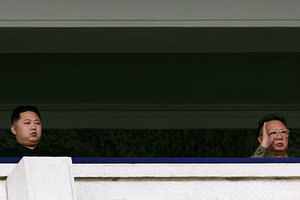 Vincent Yu/AP
The oldest son of North Korea's leader Kim Jong-il appears to harbor secret ambitions of his own to succeed his father – despite the fact that his youngest half-brother has already been chosen as successor.
That's the impression Kim Jong-nam is creating here on the basis of remarks that his father would likely view as blasphemous. First there was his surprisingly frank interview with a Japanese televsion network, and then there are comments that he reportedly made to a contact in the gambling enclave of Macao, the one time Portuguese colony on the south China coast where he's been living.
According to Yonhap, the South Korean news agency, Kim Jong-nam is said to have told one contact who saw him in Macao that North Korea "is collapsing," and he has no desire "to take over the baton" now that Kim Jong-un has emerged as the one to rule the country when his father leaves the scene.
Some analysts believe, however, that Kim Jong-nam is just waiting to see if Kim Jong-un can do the job – and has carefully left open the possibility of eventually returning to North Korea in the top position.
"He's giving a strong signal that should the regime of Kim Jong-un collapse, then he's the solution," says Ha Tae-kyung, president of Open Radio North Korea, reporting by short wave for clandestine listeners in North Korea. "He knows North Koreans are disenchanted."
---