China census challenged by citizens' rising sense of privacy
China's once-a-decade census is complicated by a new reluctance to divulge information or expose violations of the one-child policy. A booming migrant population also poses problems.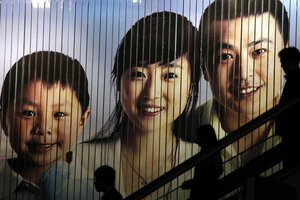 Carlos Barria/Reuters
Six million census takers fanned out across China on Monday, launching a once-in-a-decade effort to count the world's largest population and track its changes.
The biggest challenge of the 10-day campaign, say officials involved in the census, will be to pin down the real number of migrant workers. Key players in China's economic boom over the past three decades, they number more than 200 million, according to some estimates.
The authorities are also making a special effort to get a more accurate picture of how many children China has. Parents who have violated the government's one-child policy have been promised reduced fines if they declare their extra children to census takers.
 
More generally, says Feng Nailin, deputy head of the census project, census takers will have to deal with Chinese citizens' rising sense of privacy and a reluctance to tell the government their personal details.
Precensus surveys, Mr. Feng told reporters last month, revealed "more refusals to cooperate with the census."
---