New Mt. Merapi eruption in Indonesia raises death toll into triple digits
The latest Mt. Merapi eruption, which began late Thursday night, pushed the death toll from the eruptions that began Oct. 26 to more than 100 and burned villages up to nine miles from the crater.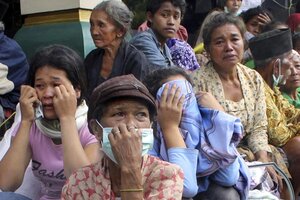 AK Hendratmo/AP Photo
The death toll from Indonesia's Mt. Merapi doubled Friday when rescue workers uncovered more than 50 victims who had succumbed to the latest blast of superheated gas from a fierce eruption that began late Thursday night. The eruption burned villages up to nine miles away from the volcano's crater and forced authorities to widen the evacuation zone.
The volatile volcano has killed more than 100 people and left nearly 90,000 in need of shelter since it first began erupting 10 days ago.
Shelters closer than 12 miles to the summit have been relocated and many evacuees were forced to move for a second time in two days. On Friday afternoon, President Susilo Bambang Yudhoyono declared the eruption a national disaster and tasked the country's disaster management agency with overseeing relief operations.
Increasingly powerful eruptions have hampered relief efforts and caused panic among evacuees shaken by the intensity of the previous three days' blasts. Officials widened the evacuation zone Thursday. The latest eruption sounded as people were loading into the trucks that would take them further down the volcano.
Many people panicked and were separated from their families in the chaos, says Haris Eko Yulianto, the head of the Indonesian Red Cross in Jogjakarta. He is working with the authorities to secure enough water, masks and eye drops to last evacuees for one week. The Red Cross is also distributing other aid, such as blankets and mattresses and providing health consultations.
Yulianto said the biggest worry is that people will become sick from breathing the thick dust and sand in the air.
---