Aung San Suu Kyi: How her release could shape Burma's political future
Opposition leader Aung San Suu Kyi could be freed shortly after Burma's Nov. 7 election, its first in 20 years. What she does next could have broad consequences for Burma's political transition.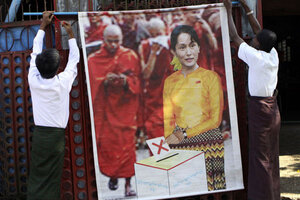 Khin Maung Win/AP
A nation stunted by economic decline and political strife goes to the polls Nov. 7 under the gaze of its authoritarian rulers. The multiparty elections are supposed to restore civilian control to Burma (Myanmar) after 50 years of military dominance.
The election, the first in 20 years, is a landmark of sorts for Burma. But equally significant is the scheduled release, six days later, of Aung San Suu Kyi, a democratic icon and probably the world's most recognizable political prisoner. Her current term of house arrest ends Nov. 13 and many expect her to walk free, albeit under the threat of rearrest.
What Ms. Suu Kyi says and does next could have broad consequences for Burma's political transition and for its critics in the West, including the Obama administration, whose stance on Burma is heavily influenced by her nonviolent cause. Although absent from state media, she is revered by ordinary Burmese as a symbol of hope.
Perhaps the biggest question is how Suu Kyi will view the election, which her National League for Democracy (NLD) boycotted on her advice. Some NLD members set up a new party, the National Democratic Front (NDF), that is participating in the vote and insists that a flawed election is better than none. The NLD has tried to vilify NDF members as "traitors" and is urging a voter boycott.
---