The Fed's move to buy up US Treasury bonds sets China and US up for a duel at G20
China and other leading nations say they view the Fed's move to buy up $600 billion in US Treasury bonds, on top of earlier purchases, as timed to put them on the defensive at the G20 summit in Seoul.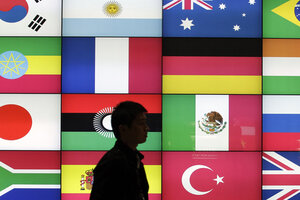 Lee Jin-man/AP Photo
A controversial move by the United States increased tensions Monday between the US and China over different views on what to do about yawning trade imbalances at the Group of 20 summit here this week.
President Obama, in New Delhi at the end of the first leg of his 10-day Asian tour, rebuffed widespread international criticism of last week's decision by the Federal Reserve Bank to buy up $600 billion in US Treasury bonds.
The Chinese, under strong US pressure to drastically revalue their currency, blasted the Fed's move as an effort to depreciate the value of the dollar by printing more dollars. Why, Chinese officials asked, should they then have to revalue the Chinese yuan against the dollar, as the US has repeatedly demanded, in order to cut down China's enormous trade surplus with the US?
Mr. Obama, as expected, stressed the benefits a strong US economy. "The Fed's mandate, my mandate, is to grow our economy," he said. "That's not just good for the United States, that's good for the world as a whole."
That message was not convincing to the Chinese or to other major exporters.
The objections
---