As Seoul prepares to host G20, Summers speaks of trade 'imbalances'
Ahead of the G20 summit in Seoul, top US economic adviser, Larry Summers, talks of a trade 'imbalance,' dodges questions about a 'trade war,' and sounds a positive note.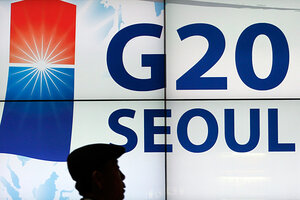 Lee Jin-man/AP
A sense of excitement is sweeping this spruced-up capital just two days before the arrival of the leaders of 20 of the world's economic powers for a Group of 20 (G20) summit that few observers believe will solve deep-seated problems confronting the entire global trading system.
Platoons of police in sparkling new uniforms roamed subways and streets. Posters and giant TVs displayed notices telling people to welcome visitors. Radio commercials urged everyone to clean the streets before the arrival Wednesday of 19 heads of state, including President Obama.
In the midst of an outburst of national pride, however, finance ministers and lower-ranked officials referred to as "sherpas" haggled over the wording of an "action statement" that both Mr. Obama and China's President Hu Jintao can agree on.
Obama's top financial adviser, Larry Summers, in a live teleconference from the White House to a meeting of the Asia Society's Korea Center avoided predicting the real consensus for which participants have been pressing.
Asked if he believed the G20 would then end without any real agreement, he responded carefully, "I am confident we will reach a successful outcome at the summit" – a circumlocution that suggested a face-saving document that would put off real solutions for the next G20 next year in France.
A prolonged struggle?
Rather than come to terms now, Mr. Summers predicted a prolonged struggle to bring about "global rebalancing," the polite term for bringing about more equitable balances in trade. US officials are convinced that China's currency is set, as a result of government intervention, at a level far below its real value so the Chinese can compete more favorably in foreign markets.
---