Obama arrives in Indonesia to fanfare, but Mount Merapi ash will cut visit short
President Obama's visit to Indonesia, the world's fourth-largest democracy and the country with more Muslims than any other, is expected to cover a broader range of issues than his trip to India.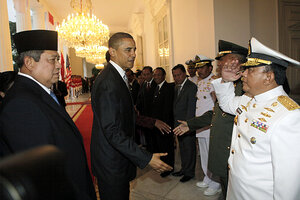 Dita Alangkara/AP
Spectators huddled under colorful umbrellas Tuesday to watch President Obama's cavalcade tear through the center of Jakarta amid a light, tropical rain.
Indonesia's President Susilo Bambang Yudhoyono, normally austere and rigid, met his US counterpart with a smile, but the ash clouds overhead forebode what some people here already feared.
The president Indonesians know best as "Little Barry" from the neighborhood of Menteng, has bumped up his departure by several hours amid fears that ash from an erupting volcano could disturb air travel. Dozens of international flights were canceled over the weekend after Mount Merapi, a volcano around 500 miles to the east of Jakarta, sent up its biggest blast in nearly a century.
Mr. Obama arrived in Jakarta after spending three days in India, where he focused on deepening economic ties through US investment, pledged better cooperation on fighting terrorism, and threw his support behind adding India as a permanent member of the UN Security Council.
---
Follow Stories Like This
Get the Monitor stories you care about delivered to your inbox.