G20: Why the US should worry if Asian currencies strengthen
As world leaders gather in Seoul for their first G20 meeting in Asia, some economists argue that the push for stronger Asian currencies – particularly the Chinese yuan – will spur productivity gains.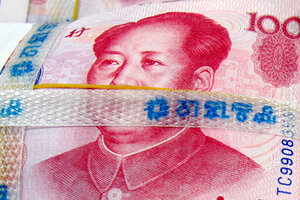 Lee Jae-won/Reuters
Currency war? What currency war?
As G20 leaders gather in Seoul Thursday – their first meeting in Asia – to seek to rebalance the world economy, some economists here are warning the United States that it should not worry about China's and other regional currencies being too weak; rather, it should worry if they get stronger.

That runs counter to a consensus in Washington that US economic recovery depends heavily on exports that will grow only if Asian importers let their currencies rise, making US goods cheaper.
But if Asian currencies, notably the Chinese RMB, strengthen, as US officials are demanding, the only way Asian exporters will be able to stay competitive will be through "a real push to increase productivity" that Western firms will be unable to match, says Martin Schulz, an analyst at the Fujitsu Research Institute in Tokyo.
"The emerging economies in Asia will take more and more export markets," predicts Hiromichi Shirakawa, chief economist at Credit Suisse Japan. "Weaker companies from industrialized nations will be kicked out."
---