Japan abandons bid to make China a key pillar of its foreign policy
China's recent aggressive behavior over disputed islands spurred Japan's Prime Minister Naoto Kan to turn his back on earlier efforts to rebalance ties with China and the United States.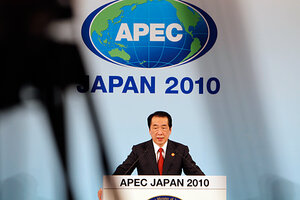 Greg Baker/AP
Shaken by China's ferocious behavior during a recent territorial dispute over a string of uninhabited islets, Japan has abandoned its earlier plans to make ties with Beijing a key pillar of a bold new foreign policy.
Instead, Tokyo is falling back for support on its traditional ally the United States, and seeking succor from other Asian nations who share fresh Japanese doubts about the regional implications of China's rise.
The novel goal that former prime minister Yukio Hatoyama trumpeted as he led the Democratic Party of Japan to its first electoral victory just 15 months ago – recalibrating Japan's relationships with Washington and Beijing – is already a fading memory.
"Re-balancing is not on anyone's agenda now," says one government official who asked not to be identified. "It's been tried and it failed. The crisis over the Senkaku islands [known to Chinese as the Diaoyu] has beefed up Japan's relations with America again."
---