Why South Koreans think North Korean conflict won't escalate
In the wake of the North Korean attack on a South Korean island, the sense among many Koreans is they could carry on as usual. But some warn against complacency.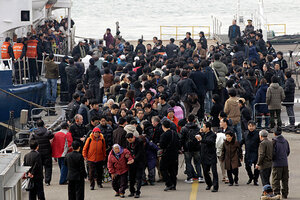 Lee Jin-man/AP
Outrage over North Korean bombardment of a hapless South Korean village on a small island in the Yellow Sea faded Wednesday amid the sense that the conflict was not likely to expand into a real threat against the South.
South Korea's "big three" conservative newspapers led the media condemnation of North Korea's attack on an off-shore island in a battle against a return to complacency among many ordinary Koreans.
"Time for Retaliation," was the headline over an editorial in JoongAng Ilbo. "North Korea's provocation has gone beyond our imagination," it read. "With our memories of the Korean War still vivid, this massive attack confirms again the grim reality that such a tragedy can be repeated at any time."
Despite such imprecations, however, the sense among many Koreans was they could carry on as usual after an incident that many believed might go down in history as just another of those periodic bloody episodes staged by the North Koreans. Then, too, some still believe that dialogue with the North – as occurred in the decade of the Sunshine policy of reconciliation, before President Lee Myung-bak's election three years ago – might have forestalled such an incident.
---