China calls for emergency talks over North-South Korea crisis
China called Sunday for emergency talks on the Korea crisis as the US and South Korea began massive military exercises in the Yellow Sea.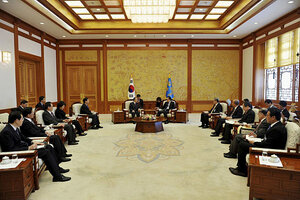 Blue House/Reuters
China sought to defuse tensions on the Korean peninsula Sunday on the first day of massive US and South Korean exercises in the Yellow Sea led by the United States aircraft carrier George Washington, with 80 planes on its decks.
The exercises were about 50 miles south of the scene of North Korea's attack last week on tiny Yeonpyeong Island in which two South Korean marines and two civilians were killed -- and far out of North Korean artillery range.
The show of force, however, created enough of a sense of crisis to push China to call for emergency talks.
IN PICTURES: Inside North Korea
In Beijing, China's nuclear negotiator, Wu Dawei, said "the Chinese side, after careful studies, proposes emergency consultations among the nuclear envoys in early December in Beijing to exchange views on major issues of concern."
---