Disillusioned South Korea weighs response to North Korean flare-up
South Korea's President Lee Myung-bak made a tough-sounding speech today, but his critics say it comes too late. US and South Korean warships engaged in 'high-intensity' war games while NKorea makes new threats.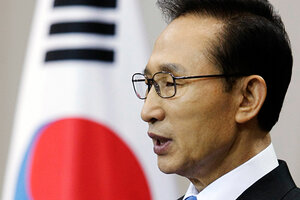 Ahn Young-joon/Reuters
South Korea's President Lee Myung-bak, in an address to the nation Monday, denounced North Korea's attack on a remote island in the Yellow Sea nearly one week ago as "a crime against humanity."
Mr. Lee, talking on South Korea's television networks, said he could hardly "contain [his] anger over the North Korean regime's cruelty" in a bombardment that killed four people, including two civilians and two South Korean marines.
Moments after he spoke, North Korea again fired off a rhetorical blast against the United States and South Korean naval exercises in the Yellow Sea, 50 miles south of the scene, promising "merciless punishment."
While the war of words raged between North and South Korea, the flotilla, led by the aircraft carrier George Washington, conducted what a South Korean military spokesman said were "high intensity" war games featuring mock attacks and target practice "on a 24-hour basis."
The exercises are to wind up Wednesday, but concerns about the will of the South Koreans and the Americans to defend the South effectively were sure to persist. "It's just rhetoric," says Chang Ki-tak, a retired businessman, after listening to Lee's speech. "It was a hard-line speech, but anybody can say those things."
On the streets of Seoul, clouds of concern seem to have cast a shadow over the lives of people who might prefer to shrug off the attack on Yeonpyeong Island as an isolated episode, one of a series since the Korean War ended in an armistice – not a peace treaty – in July 1953.
---