Okinawa election eases pressure on US military base location
Okinawans reelected the incumbent governor, who is less opposed to US military bases than his challenger. The US wants to move ahead with a 2006 deal to relocate Futenma air base within Okinawa.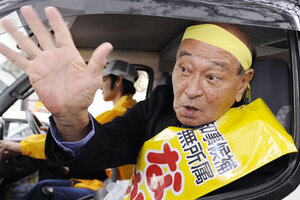 Kyodo News/AP Photo
Both Washington and Tokyo may feel they got the lesser of two evils on Sunday as the incumbent governor of Okinawa – the less virulent opponent of US military bases on the island – won a close key gubernatorial election.
The recent escalation with North Korea might have led election observers to believe that Okinawa would take regional security threats to heart and reconsider its opposition to an unpopular US military base, which has been on the island of Okinawa since 1945. But the presence of the US base in Okinawa continues to dog the Japan-US security alliance.
Both of the leading electoral candidates in this much-watched gubernatorial election expressed opposition to the relocation of the air base within Okinawa, though the eventual winner, Gov. Hirokazu Nakaima, has been more conciliatory with Tokyo than his opponent, who wants it removed from Japanese soil completely.
The strategic importance of the security alliance was illustrated Nov. 25, when the nuclear-powered aircraft carrier George Washington was dispatched to Korea from its base in Yokosuka, south of Tokyo. It began naval exercises with South Korea on the same day as the election, following the recent North Korean shelling of the South's Yeonpyeong Island.
---