It's official: North Korea says 'modern' nuclear plant is operating
North Korea boasted Tuesday to running 'thousands' of nuclear centrifuges, a week after launching a deadly artillery attack on South Korea, as China pressed for six-nation crisis talks.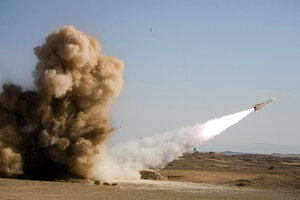 Iranian Army/AP
For the first time, North Korea made its uranium enrichment program a matter of written record Tuesday with the proud claim in the country's leading newspaper of a modern facility that is already operational.
That revelation in the Workers' Party newspaper Rodong Sinmun marks another step toward North Korea's emergence as a nuclear power. The North's "modern uranium enrichment plan" was still under construction but was already "equipped with several thousand centrifuges," according to the newspaper. In recent years Pyongyang has already exploded two nuclear devices with plutonium at their core.
What the international community knew first
North Korea was first revealed to have a uranium enrichment program in 2002, in violation of a 1994 agreement with the United States for Pyongyang to give up nuclear development in return for construction of twin light-water nuclear-energy reactors.
The North denied the existence of the program until earlier this year amid the breakdown of talks with the conservative government of South Korea's President Lee Myung-bak, whose inauguration in February 2008 ended a decade of efforts at North-South reconciliation.
---