Japan's response to North Korea takes on a sharper edge
Prime Minister Naoto Kan is finding his nation dependent on the US in responding to North Korea, even as public opposition to the US base on Okinawa remains high.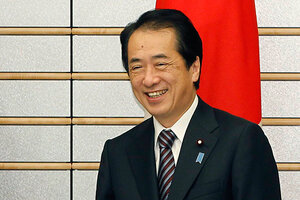 Yuriko Nakao/Reuters
North Korea's attack on Yeonpyeong earlier this month, in addition to revelations that it has made dramatic advances in uranium-enrichment technology, has sparked anger in Japan and fueled the debate over its security ties with the United States.
The shelling of the South Korean island has dominated the news in Japan, even as Tokyo debates a key economic stimulus package and Prime Minister Naoto Kan battles attacks on his leadership and approval ratings of below 30 percent.
It has also exposed Japan's dependence on the US in responding to North Korea's unsophisticated, yet hitherto effective, negotiating tactics.
Hours after the guns fell silent, Japan issued the expected call for calm, while condemning the attack.
It was not, some observers agree, Prime Minister Kan's finest hour as a statesman. His immediate response was confined to the setting up of an information-gathering task force, although he captured the public mood when he said: "Indiscriminate attacks on civilians is a barbaric act that should not be tolerated.
"We will cooperate with South Korea, as well as the United States, and the three of us together will decisively counter North Korea's reckless and outrageous acts."
Sharpened tone on North Korea
---