Yeonpyeong attack spoils South Korea's appetite for sending food aid to North Korea
In South Korea, public support for cutting aid to North Korea has nearly doubled in the wake of the North's Nov. 23 attack on Yeonpyeong Island, a new study shows.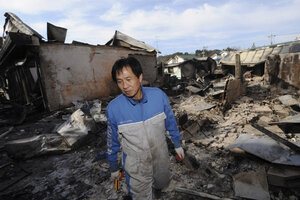 Yonhap/AP Photo
As South Korean and US military leaders meet this week to discuss North Korea's Nov. 23 attack on Yeongpyeong Island, South Korean aid groups are scrambling to assist those most affected by tensions on the peninsula: North Korea's hungry.
Public opinion on giving aid to the North has shifted dramatically in the South since the incident, which killed two soldiers and two civilians. This has forced aid groups here to significantly rethink their strategies for supporting North Koreans.
After the Yeonpyeong attack, 57 percent of South Koreans surveyed were in favor of cutting aid to North Korea, according to a study released this week by the East Asia Institute, an independent think tank based in Seoul. That number was just 32 percent in January, and 51 percent after the sinking of South Korea's Cheonan warship in March. An international investigation team found that a North Korean torpedo was responsible for the Cheonan sinking, though North Korea has maintained its innocence in the matter.
IN PICTURES - Cult of Personality: Inside North Korea
"Before the Yeonpyeong incident, there was some thought in the South that if the North were willing to agree to a system of frequent reunions of separated families, the South would consider a kind of quid pro quo where food aid would be supplied," says Edward Reed, the Asia Foundation's country representative in Korea. "For South Korea, it would now be politically impossible to give any substantial aid to North Korea."
---