US rallies Tokyo and Seoul, rails against China's support for North Korea
China's highest-ranking foreign affairs official went to Pyongyang on Thursday, just after US Adm. Mike Mullen visited Japan and South Korea.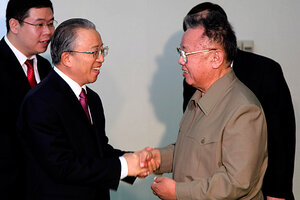 Gao Haorong/Xinhua/AP
Both China and North Korea appear eager to put on a show of business as usual amid US diplomatic and military moves to bring together America's two regional allies, South Korea and Japan.
While China and North Korea solidified their relationship in a quick visit Thursday to Pyongyang by Dai Bingguo, China's highest-ranking foreign affairs official, the US shored up its trilateral relationship with South Korea and Japan. To the disappointment of South Koreans as well as Americans, analysts saw no sign of significant Chinese pressure on North Korea to pull back from confrontation with the South.
The cordial tone of official Chinese and North Korean dispatches contradicted what many see as the wishful thinking of South Korea's national security adviser, Chun Yung-woo.
Mr. Chun was quoted in a US document released by WikiLeaks as telling the US ambassador to South Korea, Kathleen Stephens, in February 2010 that China "would be comfortable with a reunified Korea controlled by Seoul and anchored to the US in a 'benign alliance' as long as Korea was not hostile toward China."
---