Rising food prices could signal stubborn inflation in China
Government officials say the rising food costs are due to bad weather, but some economists say an economic policy that encourages lending and spending has caused inflation.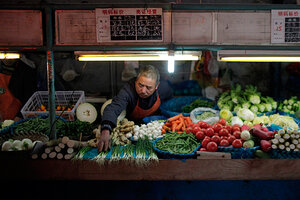 Carlos Barria/Reuters
Zhao Lijuan, a retired accountant, picked through the vegetables at a downtown Beijing market on Tuesday with more than her usual care.
"The price of everything has gone up this year," she says. "Before, if I bought too much, I would throw the leftovers away. Now I'm careful to buy only what I know my family will eat."
Food prices in China have gone up by 11.7 percent in the past year, according to official figures released over the weekend, pushing overall year-on-year inflation to 5.1 per cent – a 28-month high.
If government officials are right to blame the unusual rate on bad weather that has pushed vegetable prices up, Ms. Zhao will not have to worry for long. The seasons will change.
But some economists point to deeper reasons behind the rising prices, which suggest that inflation could be a more stubborn problem.
A policy 'bound to create inflation'
High on the list of causes for many experts is the credit boom that the government has encouraged over the past two years to power China through the international economic crisis. Lending by largely state-owned banks nearly doubled last year from 2008, and has stayed almost as high this year.
"The major driving force for Chinese inflation is the extremely expansionary monetary and credit policy," says Xiang Songzuo, senior fellow at the International Monetary Research Institute in Beijing. "That was bound to create inflation."
---