US blending military and diplomatic strategies to stall North Korea
Top US officials appear to be pressing China to do more to rein in North Korean aggression. Meanwhile, the South held a major civil defense drill Wednesday.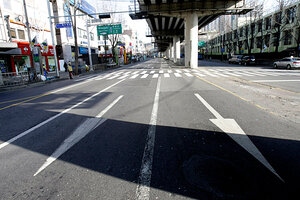 Ahn Young-joon/AP
The US has hit upon a strategy of mingling diplomatic appeals with military tough talk in attempts to restrain North Korea from staging attacks on South Korean targets.
That much appears clear from the latest pronouncement of Washington's two top representatives in South Korea, the US ambassador and the commander of US forces, although how they're thinking of following through on this approach remains unclear.
Ambassador Kathleen Stephens, in line with a US diplomatic offensive ongoing since the North Korean artillery barrage on an island in the Yellow Sea on Nov. 23, clearly believes China holds the cards when it comes to getting North Korea to refrain from future episodes.
North Korean attack on South Korea: 8 provocations of the past decade
"We have been working very closely to develop countermeasures," she said Wednesday at a gathering of American business people. "We hope China will work with us to send a clear and unmistakable message to North Korea" – and persuade the North "to end their provocative actions."
---