Malaysia parliament suspends opposition leader Anwar Ibrahim
Opposition leader Anwar Ibrahim, already on trial for sodomy, was suspended from parliament -- further dimming his chances of leading Malaysia.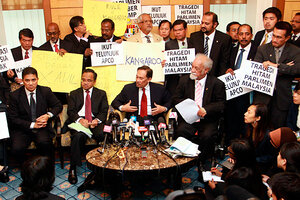 Reuters
Malaysia's parliament voted Thursday for a six-month suspension of opposition leader Anwar Ibrahim and three other lawmakers after Mr. Anwar accused the government of naming a national ethnic unity campaign after a defunct Israeli political alliance. Israel is deeply unpopular in majority-Muslim Malaysia.
The suspension of Anwar, a former deputy prime minister who is currently on trial for alleged sodomy, is fuelling speculation that Prime Minister Najib Razak is gearing up for elections next year. Recent by-elections suggest that the government has won back support in areas where the opposition made gains in the last election.
Legislators suspended Anwar for saying in March "1Malaysia," a government campaign to promote unity among Malaysia's ethnic groups, was named after "One Israel," a political alliance led by former Israeli Prime Minister Ehud Barak that collapsed in 2001. Malaysian officials denied that the idea was copied from Israel, which has no diplomatic relations with Malaysia.
Anwar has emerged as a serious challenger to the National Front (Barisan Nasional) coalition which has governed Malaysia since its independence from Britain in 1957. But he faces a lengthy jail sentence if he's convicted on the sodomy charge, a virtual rerun of a highly controversial sodomy trial in 1998 that sent him to jail for six years.
---
Follow Stories Like This
Get the Monitor stories you care about delivered to your inbox.