Australia signals harder line on asylum seekers following Christmas Island tragedy
Refugee advocates fear Australia will get even tougher on asylum seekers following the Christmas Island shipwreck, which killed at least 30 refugees – many from Iran and Iraq.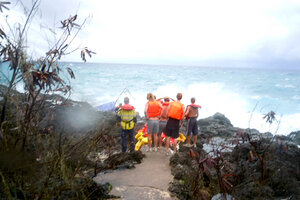 ABC/AP
Australian refugee advocates expect Wednesday's shipwreck off Christmas Island to tighten the country's already strict immigration policies on asylum seekers.
To be sure, Australians responded with sympathy to photos this week in local newspapers of Iranian and Iraqi asylum seekers clinging to the wreckage of their rickety boat in a botched attempt to reach Australia's Christmas Island. But the solution favored by many here appears to be a measure of what they see as tough love: To discourage asylum seekers from risking their lives, the government should take a harder line on people smugglers and illegal immigration.
In the wake of the Christmas Island tragedy, which resulted in the death of at least 30 people, including eight children, Australia's ruling Labor Party has announced a complete review of its border protection policies. This will include investigating whether immigration processing facilities should continue to be housed on offshore Australian territories such as Christmas Island, located in the Indian Ocean some 1,600 miles northwest of the Western Australian capital city of Perth and 220 miles south of the Indonesian capital of Jakarta.
An online poll run on Friday by the Herald-Sun, the country's largest daily newspaper, found that less than 12 percent of some 18,000 respondents supported the proposition that Australia should "open the door to asylum seekers to prevent further tragedies."
Australia's already tough policy set to get tougher
---
Follow Stories Like This
Get the Monitor stories you care about delivered to your inbox.